News ARVALIS : RECORD FLOWERING DATES OF YOUR FEED MAIZE TO OPTIMISE SILAGE QUALITY
19 July 2019
NOTER LA DATE DE FLORAISON DU MAÏS FOURRAGE POUR OPTIMISER LA QUALITE DE L'ENSILAGE
Maize flowering is not necessarily what we think it is. It is not male flowering, which consists in tassel forming at the uppermost tip of the plant (a phenomenon that is visible from the field edge), but female flowering, which consists in silking – silk forming at the tip of the ears, at the height of the crop's development.
The maize flowering date can be pinpointed when half of the plants in the field present visible silks just below the leaves. It is the first sign that indicates the crop's earliness class. Knowing the flowering date allows one to set the harvest dates of feed maize ahead of time and thus ensure optimum silage quality. The ARVALIS Institute recommends making written records of the crops' flowering dates; to that end, its experts have developed a short video as a visual support tool for farmers.
Knowing the Exact Flowering Date Helps One Better Predict the Harvest Date
The optimum harvest stage in feed maize is at 32-33 percent DM per whole plant. Harvesting below 30 percent limits yield and increases the risk of sugar loss in the silo through juice runoff. Harvesting above 35 percent DM risks altering silage conservation quality and reducing the digestibility of two plant components (starch and the stalk & leaf portion). In both cases – below 30 percent and above 35 DM – the energy value of feed maize is below the required level.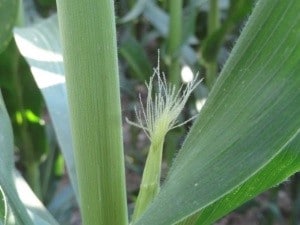 "Depending on the hybrid's earliness, between 550 and 700 degree-days (for a 6-30°C base) are necessary after flowering, to reach the optimum stage for whole plant harvesting… this means 45 to 70 days, depending on the region and climate" – Michel MOQUET, Feed Specialist with ARVALIS, explains.
Farmers can rely on tools that help them target their harvest date better. The tools are based on the temperature sums recorded after the female plant flowering. The Tameo® tool, for instance, developed by ARVALIS and Météo-France, predicts harvest dates per field, based on data provided by the farmers (location, hybrid, planting date) as well as weather data. By filling in the actual flowering date, the farmer can calculate their harvest date more accurately.
2019: Crops Catch Up after a Difficult Start
After a planting season that spread out from mid-April to mid-May, the early crop development was impacted by below-normal temperatures. At the end of June, before the heatwave, the sum of temperatures processed by the maize plants was clearly insufficient, announcing significant flowering delays. To date, the delay has been recovered almost entirely – yet weather conditions in the coming days will be decisive.  Planting dates vary inside regions, too, regardless of the region – and even more so when plantings are disturbed by rainfalls.
Therefore, growers must scout the fields around the flowering time, in order to spot the exact occurrence of that stage. The crop's yield and quality depend on it.
Press release : ARVALIS-Institut du Végétal
All press news available at:
www.presse-arvalis.fr